Anupama: Anupama purchase diamond ring for Kinjal in return of huge sacrifice (Upcoming Episode)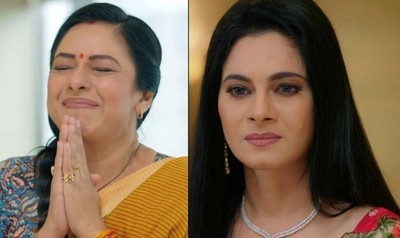 Anupama: Anupama (Rupali Ganguly) purchase diamond ring for Kinjal in return of huge sacrifice
The upcoming episode of Star Plus serial Anupama will showcase interesting drama.
It was earlier seen that Rakhi demands diamond ring from Anupama for her only daughter Kinjal.
Anupama wants to gift the ring to Kinjal and hence tires to convince the family members.
Hence Anupama gets the idea from Vanraj's sister Dolly.
Anupama hence implements the idea and sell away all her gold jewelleries only to buy one diamond ring for Kinjal.
Vanraj (Sudhanshu Pnadey) and Leela unaware of Anupama's big move
Anupama does not keep even a single jewellery for self and gives away all with Vanraj and Leela's permission.
It would be really interesting to see what happens next on the show.
Stay tuned and keep reading serialgossip.com for more updates on Anupama serial.
Latest Anupama Updates