Anupama Upcoming Twist: Anupama took big step backstabs Vanraj to favor Rakhi (Upcoming Twist)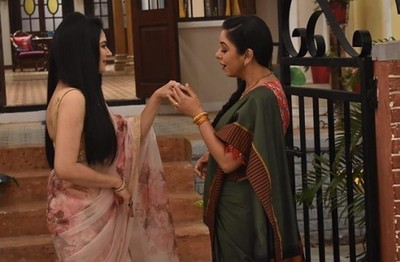 Anupama Upcoming Twist: Anupama took big step backstabs Vanraj to favor Rakhi
The upcoming episode of Star Plus Hindi serial Anupama is going to see Anupama's major step.
It seems Rakhi Dave's big fat demand for diamond ring will ultimately affect Anupama and Vanraj's marital life.
Rakhi is stubborn to have diamond ring for Kinjal while Vanraj and Baa are against it.
Further in the story, Anupama seeks advice from Dolly who suggests Anupama to sold off all her gold jewelries and get diamond ring for Kinjal.
Anupama likes the idea and thus selling off her gold jewelries, Anupama gets diamond ring for Anupama where she also keeps it secret from Vanraj.
Anupama and Vanraj's disagreement
Anupama and Vanraj will soon have a shocking disagreement when Anupama's such step will get expose to everyone.
Anupama has unknowingly taken such an extreme step that will surely blow off Vanraj's brain who is determined to bend before Rakhi's nasty tricks.
Let's see how and when Anupama will realize the reality.
Latest Anupama Updates