Yeh Rishtey Hai Pyaar Ke: Abeer Mishti agrees to accept Kuhu as their surrogate (Upcoming Story)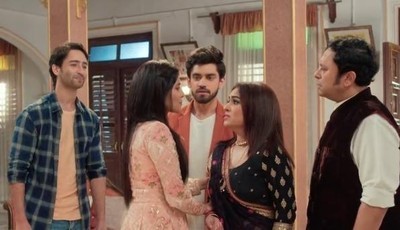 Yeh Rishtey Hai Pyaar Ke: Abeer (Shaheer Sheihk) Mishti (Rhea Sharma) agrees to accept Kuhu (Kaveri Priyam) as their surrogate
The upcoming episode of Star Plus serial Yeh Rishtey Hai Pyaar Ke will showcase interesting twist and turn.
Kuhu makes her sudden entry in Rajvansh Mansion and declares that she is ready for surrogacy.
While Abeer and Mishti have taken the decision for adoption.
Kuhu calls adoption centre and cancels Abeer Mishti's adoption plan.
Abeer and Mishti gets angered on Kuhu and scolds her for her big step.
However Kuhu wants to turn Abeer Mishti's surrogate and request them to give a chance to help them.
Kunal and Kuhu counts all the sacrifices done by Abeer and Mishti for them.
Kuhu Kunal counts Abeer Mishti's sacrifices
Where Kuhu and Kunal does not give Abeer Mishti a chance to reject their surrogacy plan.
Left with no other option Abeer and Mishti accepts Kuhu Kunal's surrogacy.
Keep tuned for latest development in Yeh Rishtey Hai Pyaar Ke.
Latest Yeh Rishtey Hai Pyaar Ke Updates