Yeh Rishtey Hai Pyaar Ke: Meenakshi manipulate Kuhu to accept surrogacy deal (Upcoming Episode)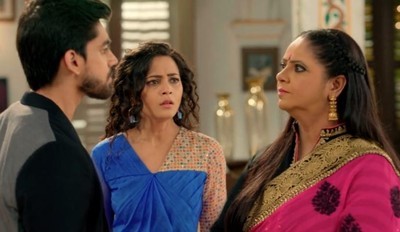 Yeh Rishtey Hai Pyaar Ke: Meenakshi (Rupal Patel) manipulate Kuhu (Kaveri Priyam) to accept surrogacy deal
The upcoming episode of Star Plus popular serial Yeh Rishtey Hai Pyaar Ke will showcase interesting twist and turn.
It was earlier seen that Kuhu gets upset with Kunal's idea and returns back to Singhania house.
Kuhu refuses to go back with Kunal to Rajvansh Mansion.
Hence Meenakshi makes her entry in Singhania Mansion to brainwash Kuhu.
Meenakshi reminds Kuhu about the golden opportunity on her way by turning Abeer Mishti's surrogate.
Abeer and Mishti shocked with Kuhu's acceptance
Kuhu re-think on her decision and decides to accept the surrogacy deal.
It would be really interesting to see what happens next on the show.
Will Abeer and Mishti accept Kuhu as their surrogate?
Let's wait and watch for the next new twist in Yeh Rishtey Hai Pyaar Ke.
Latest Yeh Rishtey Hai Pyaar Ke Updates