Barrister Babu: Excited Bondita turns parent to attend Batuk's PTM (Upcoming Twist)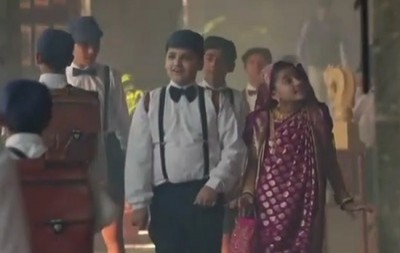 Bondita (Aura Bhatnagar Badoni) and Batuk (Daksh Rana) new adventure in Barrister Babu
The upcoming twist of Barrister Babu, Colors TV Hindi serial will see Batuk and Bondita's new mission.
Bondita and Anirudh are finally together in their trustworthy marital relationship.
Anirudh wants Bondita to restart her studies but soon Binoy taunts Bondita that her studies have no worth.
Batuk faces a big problem when the Principal compels him to bring his parent or his family elder member.
Bondita will now turn a big helping hand to Batuk in dealing with his new trouble.
Anirudh to learn Bondita big step
Bondita offers help to Batuk and compels him to take her to his school as she is the family's daughter-in-law.
Batuk wants to get saved from the scoldings and agrees to Bondita's plan.
Bondita turns parent to Batuk and attends his school PTM.
Bondita explores a fun time in the school and desires to study in school.
Will Anirudh learn Bondita's such step?
Latest Barrister Babu Updates