Shaadi Mubarak Latest News: KT to marry Preeti filling sindoor in Preeti's hairline (Latest News)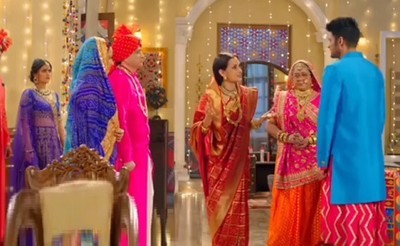 KT (Manav Gohil) and Preeti (Rati Pandey) to take their life big decision in Shaadi Mubarak
The latest story of Shaadi Mubarak is going to focus on the new track of KT and Preet's marriage.
Kusum and Bua Saa compel KT and Preeti to get married after their successful partnership in Shaadi Mubarak.
Rati tried her all evil plans to defame KT and Preeti and make Bua Saa separate them.
It seems the luck in is KT and Preeti's favour.
Bua Saa counts the compatibility between KT and Preeti and asks KT to fill sindoor in Preeti's hairline.
KT and Preeti in a dilemma
KT is guilty of hiding his marriage truth from Preeti while Preeti is upset with KT.
Now when Bua Saa and Kusum urge the two to get married and start a new life,
Will KT marry Preeti and Preeti give a chance to their relationship?
Latest Shaadi Mubarak Updates