Shaadi Mubarak: Preeti and Kusum's masterstroke to expose Nandini before KT (Upcoming Twist)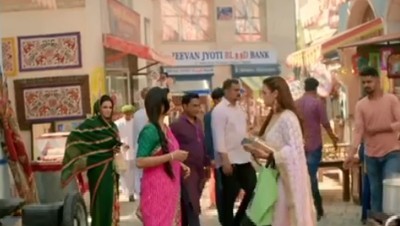 Preeti (Rati Pandey) and Kusum make plans to expose Nandini before KT (ManavGohil) in Shaadi Mubarak
The latest story of Shaadi Mubarak is looking forward to Preeti and Kusum master plan against Nandini.
Nandini is playing her dirty games with KT.
Nandini is back after 17 years to remarry KT.
Yet now it isn't revealed about why Nandini wants to remarry KT and why she is faking her love for KT before her son Arjun.
Even so, Kusum has tracked down her filthy motives.
Kusum and Preeti make plans and thus catch Nandini in the market which shocks Nandini to the hell.
Nandini's evil motives for KT
Kusum and Preeti confront Nandini for coming back to break KT's heart while Kusum has called KT.
KT is just a mile away from reaching Nandini, Preeti and Kusum.
Let's see how Kusum and Preeti's plan will expose Nandini to KT or Nandini will execute her evil plans and mislead KT again.
Stay tuned with us for more updates and latest news.
Latest Shaadi Mubarak Updates