Yeh Hai Chahatein: Rudraksh refuses to separate Saaransh from Prisha warns Mahima (Upcoming Twist)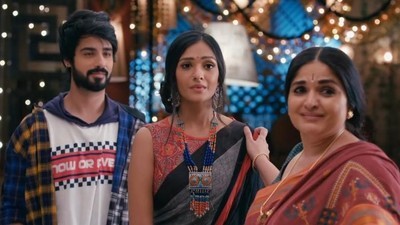 Yeh Hai Chahatein: Rudraksh refuses to separate Saaransh from Prisha warns Mahima
The upcoming episode of Star Plus serial Yeh Hai Chahatein will showcase interesting twist.
It was earlier seen that Rudraksh brings Mahima home.
Rudraksh is aware that Mahima is Saaransh's real mother.
Now Mahima has returned to take Saaransh back along with her and free Prisha.
However Prisha and Saaransh are each others life line and cannot get separated.
Prisha is tensed and Mahima demands Saaransh back.
Rudraksh reveals to Mahima that Saaransh is his and Prisha's son
Prisha goes to speak to Rudraksh where he is aware of the truth that Saaransh is Mahima's son.
Rudraksh thus rushes to Mahima and with due respect he warns her that she cannot take Saaransh as Saaransh is now Rudraksh and Prisha's son.
Keep reading seralgossip.com for the next new twist in Yeh Hai Chahatein.
Latest Yeh Hai Chahatein Updates