Shaadi Mubarak: Nandini plays mind game with KT keeping Preeti at bay (Upcoming Twist)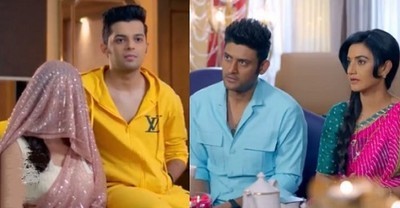 Shaadi Mubarak: Nandini plays a mind game with KT keeping Preeti at bay
Star Plus serial Shaadi Mubarak will see a tough phase in KT and Preeti's life with KT's ex-wife Nandini returned back.
Nandini and her son Arjun are manipulating the situation in such a way that KT remarries Nandini.
Kusum and Preeti soon find the truth of Nandini as they catch her red-handed in the market.
However, when KT reaches, Nandini manipulates the situation in her favour.
Nandini is now determined to keep Preeti away from KT but this is ultimately going to bring trouble for KT himself.
Preeti turns shield to KT
Preeti is still not ready to accept the defeat and is determined to protect KT from Nandini's filthy motives.
Let's see what big twist will come in Shaadi Mubarak next.
Stay tuned with us for more updates.
Latest Shaadi Mubarak Updates