Yeh Rishta Kya Kehlata Hai Spoiler Alert: Naira-Kairav's mother and son relation takes ugly U-turn (Latest Spoilers Alert)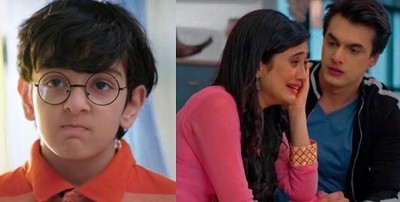 Yeh Rishta Kya Kehlata Hai Spoiler Alert: Naira-Kairav's mother and son relation takes ugly U-turn
The upcoming story of Yeh Rishta Kya Kehlata Hai will see Kairav and Naira's big fight.
Naira is misunderstanding Kairav and her distrust in Kairav is hurting Kairav deeply.
Further, when Vansh jumps from the terrace and gets injured, Naira believes Kairav is responsible for everything.
Gayu who overhears Naira blames Kairav for everything will now make the situation worse.
Kairav already separated himself from Naira in his family painting which hurts Naira,
Kairav's love for his mommy now turns in bitter hate which is really hard for Naira to bear.
Kartik stuck amid Naira and Kairav's hate
Kartik is stuck amid Naira and Kairav's relation taking an ugly u-turn.
This is getting worse and worse but let's see how Kartik and Naira will face the new storm and Kairav's hate.
Keep reading serialgossip.com for more updates.
Latest Yeh Rishta Kya Kehlata Hai Updates