Kumkum Bhagya: New story Abhi and Pragya make plans to unite Prachi Rhea (Upcoming Twist)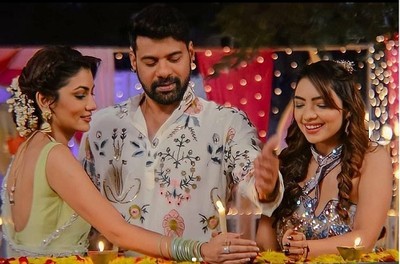 Kumkum Bhagya: Abhi and Pragya kick in mission to unite Prachi and Rhea
ZEE TV serial Kumkum Bhagya upcoming twist will see Abhi and Pragya on their new mission.
Abhi wants Rhea to reconcile with Prachi but Rhea's hate for Prachi is like never-ending.
Pragya learned about Rhea's hand in Prachi's kidnapping but keeps quiet and forgives her.
Pragya and Abhi are happy to be with Rhea but they are missing Prachi's presence.
Abhi and Pragya thus come together to make plans to bring Prachi and Rhea closer.
Rhea to accept Prachi
Rhea and Prachi's sisterly relation is facing a hard time and Rhea is not ready to accept Prachi.
How Prachi and Rhea will unite is worth to watch next in Kumkum Bhagya.
Stay tuned with us for more updates and latest news.
Latest Kumkum Bhagya Updates