Kundali Bhagya: Mahira force Preeta to sacrifice Karan's love for family safety (Upcoming Story)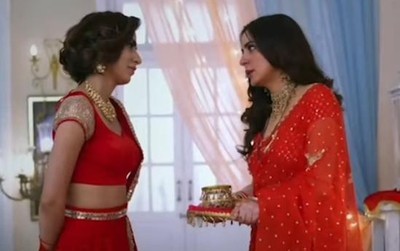 Kundali Bhagya: Mahira force Preeta to sacrifice Karan's love for family safety
The upcoming episode of ZEE TV serial Kundali Bhagya will showcase interesting twist and turn.
It was earlier seen that Mahira wanted to fast for Karan but Preeta keeps her fast.
Mahira vows to ruin Preeta's karvachauth and adds poison to Preeta's Sargi.
Preeta consumes the same and at the end of day she collapses.
Preeta comes to know that Mahira poisoned her food while Mahira shifts the entire blame on Sarla.
Preeta tensed with Mahira's ultimatum
Kareena and Dadi also believes Mahira but Preeta is aware of the reality.
However, Preeta decides to prove Mahira's innocence.
Mahira is not ready to lose and hence she warns Preeta to sacrifice her love for Karan or else lose the entire family.
Keep reading serialgossip.com
Latest Kundali Bhagya Updates