Pakhi enters with nasty plan to stop Virat Sayi wedding Ghum Hai Kisi Ke Pyaar Mein (GHKKPM) (Upcoming Twist)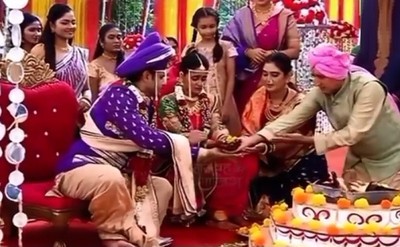 Ghum Hai Kisi Ke Pyaar Mein: Pakhi to turn drastic hurdle in Virat and Sayi's marriage
Star Plus Hindi serial Ghum Hai Kisi Ke Pyaar Mein will see Virat and Sayi's wedding soon.
Virat and Sayi finally compromise with their lives and agree to get married.
Virat compels Sunny to bring Pakhi in Gadchirauli that Chavan family objects over it.
Ultimately, Virat and Sayi start wedding rituals while here Pakhi finally gets the news of Virat's sudden marriage.
Virat and Sayi both are getting married with an upset mood while Pakhi is determined to not let Virat break his promise to her.
Virat and Sayi's destined love defeats Pakhi
Virat and Sayi's destined love will finally win against the nasty strategies of Pakhi.
This is going to be highly intensified to watch how Virat and Sayi's marriage life will face unfortunate ups and downs because of Pakhi.
Stay tuned with us for more updates and latest news.
Latest Ghum Hai Kisi Ke Pyaar Mein Updates