Kyun Utthe Dil Chhod Aaye: Uday-Randhir sweet gestures to cheer up Amrit-Vashma (Upcoming Episode)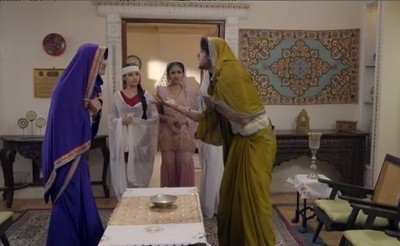 Kyun Utthe Dil Chhod Aaye: Uday-Randhir sweet gestures to cheer up Amrit-Vashma
Kyun Utthe Dil Chhod Aaye is Sony Entertainment Television's popular daily soap show bringing new twists and dramas in upcoming tracks.
It was seen that how Iqbal is hurt he wanted Vashma and Uday to leave Lahore and reach India else there will be troubles.
Amrit and Randhir also gets united where along with Uday and Vashma they are about to leave Lahore.
Amrit and Vashma hurt, Uday Randhir saree avatar ahead
Amid all this new twist is there where Randhir and Uday saree drama is here where they just wanted to bring lose smile on Amrit and Vashma face.
On other side, Farooq and his grandmother are still searching for them where they wanted to kill everyone before leaving Lahore.
How Uday and Randhir will face this?
It would be interesting to see what will happen next in show KUDCA.
Stay Tuned with us for more exciting updates and upcoming twists in the shows.
Latest Kyun Utthe Dil Chhod Aaye Updates