Mehndi Hai Rachne Wali: Time for tables to turn amid Raghav Pallavi (Latest News)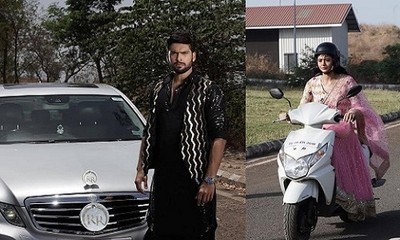 Mehndi Hai Rachne Wali: Time for tables to turn amid Raghav and Pallavi
Further, in the latest story of Mehndi Hai Rachne Wali TV serial, Raghav and Pallavi have their drastic face-off.
Raghav is desperate to oust Pallavi from the city and snatch his shop back from her.
Pallavi is not ready to lose before Raghav's tantrums and planning and plotting.
Thus Pallavi gets ready to face the circumstances with strong determination.
Raghav and Pallavi marriage deal
While Raghav is waiting for Pallavi on the road, Pallavi is coming with her scooter.
Raghav and Pallavi once again have a challenging and heated argument.
Soon, Raghav puts a marriage deal before Pallavi in lieu to return her shop and also cancel their prior agreement.
Will Pallavi be able to save her family and give a befitting reply to Raghav's dominance?
Stay updated with SERIALGOSSIP.COM for more interesting updates and the latest news.
Latest Mehndi Hai Rachne Wali Updates