Yeh Rishta Kya Kehlata Hai: Ugly spat amid Kartik Manish (Upcoming Episode)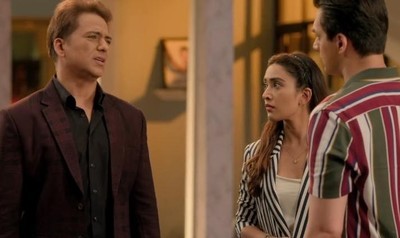 Yeh Rishta Kya Kehlata Hai: Ugly spat amid Kartik Manish
The upcoming episode of Star Plus popular serial Yeh Rishta Kya Kehlata Hai will showcase interesting twist and turn.
It was earlier seen that Kartik agrees to marry Sirat for the sake of Kairav.
Kartik and Sirat developed a special bonding where Sirat is ready to take the step of marriage.
Kairav happily informs this news to Manish who fumes in anger.
Manish wants Kartik to marry a girl who holds status and that is Rhea.
Manish blames Sirat for misusing her face
While Kartik wants Sirat as Kairav likes Sirat.
Manish is adamant and calls Sirat just a duplicate who is misusing her face to earn Kartik.
Further Manish refuses to be part of Kartik Sirat marriage which leads to ugly spat amid father son.
Let's see what happens next ahead in Kartik Sirat's Yeh Rishta Kya Kehlata Hai.
Latest Yeh Rishta Kya Kehlata Hai Updates