YRKKH: Rhea tags Sirat characterless Kartik to slap Rhea (Latest News)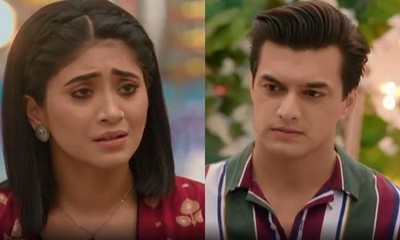 Yeh Rishta Kya Kehlata Hai (YRKKH): Rhea tags Sirat characterless Kartik to slap Rhea
Star Plus TV serial Yeh Rishta Kya Kehlata Hai will see Kartik and Sirat coming across the new troublesome situation.
Kartik and Sirat are going through a hard phase after all they have decided to get married.
At the same time, Sirat wants to reveal her past to Kartik.
However, before Sirat could, Rhea exposes Sirat's past love relationship.
Rhea questions Sirat's character and puts her in the wrong light before Manish, Kartik and other family members.
Kartik gets super furious at Rhea's such disgusting remarks and thus confronts Sirat.
Kartik defends Sirat
Kartik stands with Sirat and defends her against Rhea's evil interpretation.
Now, this is going to be highly intensified to watch as to what will happen next because infuriated Kartik raises his hand on Rhea when Rhea calls Sirat characterless.
Stay tuned with us for more updates and the latest news.
Latest Yeh Rishta Kya Kehlata Hai Updates