Mehndi Hai Rachne Wali: Raghav Pallavi's sneak out leads to pregnancy twist (Upcoming Twist)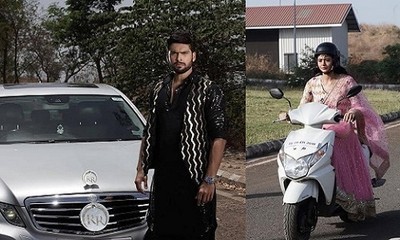 Mehndi Hai Rachne Wali: Raghav and Pallavi's sneak out gets family suspicious
The popular love story of Raghav and Pallavi is witnessing ups and downs in the current storyline.
Raghav's revenge on Pallavi is intensifying while Pallavi is adamant to not lose the deal to Raghav.
Raghav and Pallavi both have a major face-off in the Sangeet function.
In between, something is going on fishy amid Raghav and Pallavi and this is why the duos sneak out from the function only to meet each other.
Sulochna goes to trap Pallavi
While Pallavi again leaves the function to meet Raghav, here Sulochna uses this opportunity to trap Pallavi.
Now when the duos sneak out without telling anyone, Sulochna highlights their meeting to Vijay when Sharda reveals the pregnancy reciept.
Sulochna evilly claims that Pallavi is pregnant with Raghav's child and this is why she sneaked out from the function.
How Raghav and Pallavi will handle this matter?
To know this, make sure to follows us at SERIALGOSSIP.COM
Latest Mehndi Hai Rachne Wali Updates