GHKKPM: Sayi compels Virat to step back for Devyani (Upcoming Twist)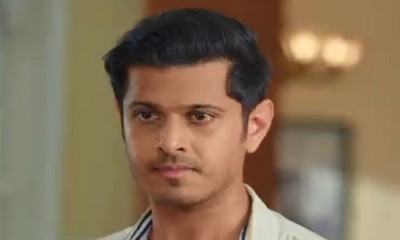 Ghum Hai Kisi Ke Pyaar Mein (GHKKPM): Sayi compels Virat to step back for Devyani
The upcoming episode of Ghum Hai Kisi Ke Pyaar Mein will see a drastic confrontation between Virat and Sayi.
Virat faces a disappointing situation when he finds Sayi took Devyani to Pulkit.
While Sayi is getting Pulkit and Devyani married, Virat's sudden entry shocks Sayi.
The major showdown between Virat and Sayi takes an ugly u-turn when Virat turns to stop the wedding but Sayi stops his way.
Sayi and Virat's drastic argument
Sayi stops Virat on the way to the wedding mandap.
Virat gets furious at Sayi for crossing the line but Sayi is adamant to not let Virat stop Pulkit and Devyani.
Sayi confronts Virat and compels him to step back for Devyani's happiness.
Though Devyani also requests Virat to not ruin her happiness, what will happen in Virat and Sayi's love relationship?
Keep reading entertainment news website Serialgossip.com for every day update and the latest news.
Latest Ghum Hai Kisi Ke Pyaar Mein Updates