Aapki Nazron Ne Samjha: Rajvee dabang avatar revealing Nandini reality (Upcoming Story)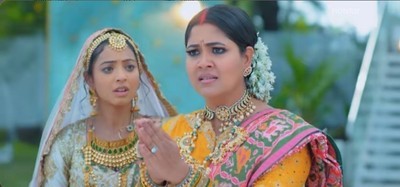 Aapki Nazron Ne Samjha: Namrata bad mouths Nandini questioning her character
Aapki Nazron Ne Samjha is Indian tv drama which telecasted on Star Plus, where its upcoming track of the show will bring much drama and suspense in the show.
Namrata and other revealed Darsh that Nandini has eloped with all jewelry and money making everyone shocked.
Not only this, Vipul and Parul also supported Namrata and Shamika's ugly plan of getting Darsh and Shamika married.
Rajvee supported Nandini against Namrata drama
However where further Rajvee supported Nandini against Namrata where Namrata tagged Nandini as characterless where Rajvee and Darsh stands for Nandini.
Amid all this Naveen also gets the clue that there is someone in mandap who helped Mohan in all this.
But Rajvee's support and words for her Nandini opens everyone eyes about Nandini's soft side.
It would be interesting to see what will happen next in the show.
Stay tuned with us for more exciting updates and upcoming twists in the show.
Latest Aapki Nazron Ne Samjha Updates