GHKKPM: Farak Padta Hai bitter tears of love rolls from Sayi's eyes (Upcoming Twist)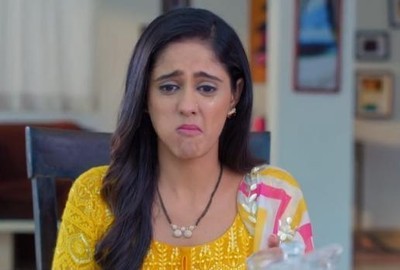 Ghum Hai Kisi Ke Pyaar Mein (GHKKPM): Farak Padta Hai bitter tears of love rolls from Sayi's eyes
The upcoming episode of Star Plus popular serial Ghum Hai Kisi Ke Pyaar Mein will showcase interesting twist and turn.
It was earlier seen that Sayi comes to Devyani's house on Pulkit's call to handle her panic attack.
When Sayi receives call from Virat and she disconnects the call.
Shockingly Pulkit comes to know about Virat being on dangerous mission and informs Sayi.
Sayi is completely moved to hear about Virat being on a dangerous mission.
Poor Sayi fails to control her painfor Virat
Sayi shows she is not affected with Virat or his family members when bitter tears start rolling out from Sayi's eyes.
Poor Sayi fails to control her pain as well as tears when she starts stuffing food in her mouth and shows that she is not affect when Farak Padta Hai for her.
It would be interesting to see what happens next on the show.
Stay tuned to serialgossip.com for more updates.
Latest Ghum Hai Kisi Ke Pyaar Mein Updates