YRKKH: Sirat hugs Ranveer decides to marry Ranveer (Latest News)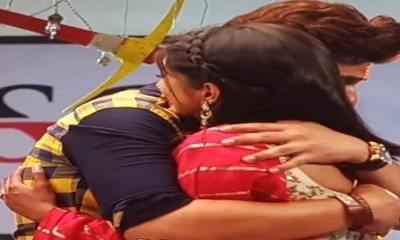 Yeh Rishta Kya Kehlata Hai (YRKKH): Sirat hugs Ranveer decides to marry Ranveer
The latest story of top TV show Yeh Rishta Kya Kehlata Hai will see Sirat and Ranveer coming face to face after a long separation.
Kartik and Siray's engagement ceremony gets disrupted with Ranveer's entry.
Ranveer and Sirat have a major showdown when Sirat grabs Ranveer from his collar.
Sirat questions Ranveer's true love when he actually betrayed her and ditched her just before their wedding.
Poor Sirat breaks down in tears when Ranveer tries to explain his innocence.
Ranveer and Sirat take the decision
Ranveer and Sirat have a drastic encounter when they argue with each other over the past.
The twist is that Sirat hugs Ranveer after knowing the truth.
So, does this mean, Sirat is going to marry Ranveer?
Keep reading SerialGossip.com for the next latest update.
Latest Yeh Rishta Kya Kehlata Hai Updates