Mehndi Hai Rachne Wali: New tension in Raghav Pallavi's life (Latest News)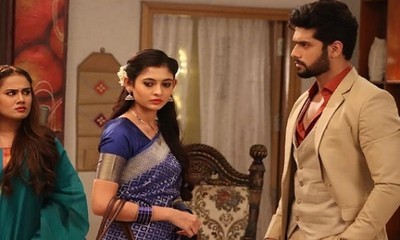 Mehndi Hai Rachne Wali: New tension in Raghav and Pallavi's life
A lot is about to happen in the upcoming latest story of Star Plus TV serial Mehndi Hai Rachne Wali.
Raghav and Pallavi's namesake marriage relationship has started to groove love.
However, something is still not right in their love life as a mysterious enemy marks his entry in their lives.
A new tension enters in Raghav and Pallavi's life when someone keeps Raghav's expensive diamond necklace in Vijay's bag and makes Rahav fall in Vijay's eyes.
Pallavi confronts her family and for the first time shows her trust in Raghav.
Raghav feels blessed to have Pallavi's support while Pallavi compels Vijay to find the truth as Raghav is innocent.
Raghav and Pallavi's new enemy
Where the new enemy of Pallavi and Raghav is the one who trapped Vijay,
How Raghav and Pallavi will recognize their enemy who is trying his best to make Raghav and Vijay's relationship sour.
To know more, make sure you don't miss the next update at SerialGossip.com
Latest Mehndi Hai Rachne Wali Updates