Ghum Hai Kisi Ke Pyaar Mein: Bhavani accepts Virat Pakhi's love (Upcoming Twist)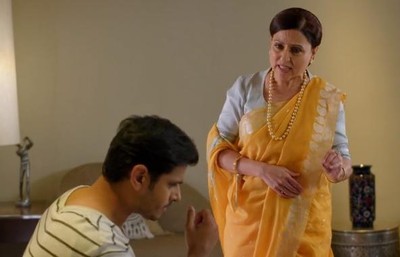 Ghum Hai Kisi Ke Pyaar Mein (GHKKPM): Bhavani accepts Virat Pakhi's love
The upcoming episode of Star Plus popular serial Ghum Hai Kisi Ke Pyaar Mein will showcase an interesting twist and turn.

It was earlier seen that Sayi expose Virat Pakhi old love story leaving entire Chavhan family shocked.
However they refuse to believe the claim from Sayi as Virat and Pakhi were quiet.
Pakhi thus starves the entire day as she wants Virat to come and console her.
But Virat does not pay heed to Pakhi but he worries for Sayi.
Bhavani thus pulls Pakhi to Virat's room where she wants Virat to show concern for Pakhi.
Bhavani's secret talk with Virat Pakhi behind a closed door
Behind the closed door Bhavani accepts the fact that Virat and Pakhi were in love but Bhavani dismisses Sayi's words leaving Pakhi and Virat shocked.
Virat and Pakhi are shocked that Bhavani knows the truth and supports them.

It would be interesting to see what happens next on the show.

Stay tuned to popular entertainment website serialgossip.com
Latest Ghum Hai Kisi Ke Pyaar Mein Updates