Sasural Simar Ka 2: Simar falls into pit at Badi Maa drastic decision (Upcoming Twist)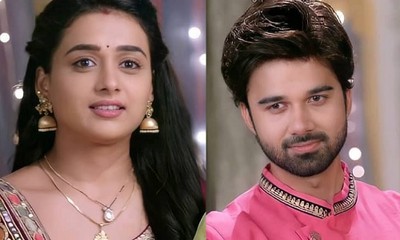 Sasural Simar Ka 2: Simar falls into pit at Badi Maa drastic decision
Your favorite TV serial Sasural Simar Ka 2 is looking forward to more drama in the Oswal Family.
So far we have seen that how Vivaan and Reema get married going against Badi Maa.
There happens huge drama when Badi Maa takes Reema to the gunpoint and turns to kill her dead.
However, Aarav and Simar save Reema and this pisses off Badi Maa to the core because this is another time when Aarav went against her.
Badi Maa puts a shocking condition
While Simar begs before Badi Maa to forgive Reema and accept her and Vivaan's marriage,
Badi Maa gets Vivaan and Reema locked in separate rooms to punish them.
Simar herself falls into a pit of troubles when Badi Maa compels her to leave if she wants forgiveness for Reema.
What will Simar do next and will Aarav let her go?
Stay tuned to entertainment news website Serialgossip.com for more updates and latest news of top TV shows.
Latest Sasural Simar Ka 2 Updates