Sasural Simar Ka 2: Gagan-Aditi in love get new challenge to Aarav-Simar (Upcoming Story)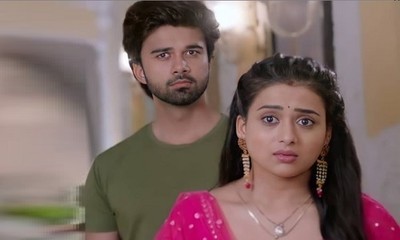 Sasural Simar Ka 2: Gagan-Aditi in love get new challenge to Aarav-Simar
In the upcoming twist story of Colors TV serial Sasural Simar Ka 2, a lot is going to happen in Aarav and Simar's life.
After Vivaan and Reema, a new love couple is going to create issues for Aarav and Simar and this is Gagan and Aditi.
Gagan is Simar's brother while Aditi is Aarav's sister.
Badi Maa already hates Simar, Reema, and Narayan family when Aditi's love relationship with Gagan is only going to create problems.
Aarav and Simar face huge shocker
While Aditi madly loves Gagan, Simar gets confused seeing her with Gagan.
Aditi and Gagan both love each other and make promises of marriage while Simar who just fetched the truth is scared of the new storm that if coming in the Oswal family due to this.
How their relationship will badly affect Aarav and Simar's budding love relationship is what you shouldn't miss next in the show.
So, make sure you read the new updates at SerialGossip.com
Latest Sasural Simar Ka 2 Updates