GHKKPM: Pakhi begrudge Sayi Ninad Milan decides to exit house (Future Story)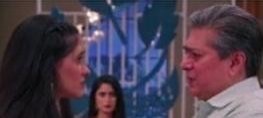 Ghum Hai Kisi Ke Pyaar Mein (GHKKPM): Pakhi begrudge Sayi Ninad Milan decides to exit the house
The upcoming episode of Star Plus popular serial Ghum Hai Kisi Ke Pyaar Mein will showcase an interesting twist and turn.
It was earlier seen that Sayi fulfils Ninad's incomplete dream leaving him overwhelmed to the core.
Sayi gets blessed as a daughter from Ninad where all this while he only hated her and wanted her out of Chavhan Niwas.
Ninad turns pink and teary seeing Sayi's good work where she sacrificed her scholarship money to buy Ninad a harmonium.
This Mahamilan of Sayi and Ninad does not go well with Pakhi.
Pakhi wants to live with her parents
Pakhi begrudges this mahamilan and feels irked.
Feeling like a unwanted show piece in Chavhan Niwas Pakhi decides to exit the house and stay in her parents house till she gets new job.
Will the Chavhan's let Pakhi go away?
It would be interesting to see what happens next on the show.

Stay tuned to serialgossip.com for more updates.
Latest Ghum Hai Kisi Ke Pyaar Mein Updates