Shaadi Mubarak: Real reason behind KT's wife returns in KT's life got Preeti restless (Latest Spoilers Alert)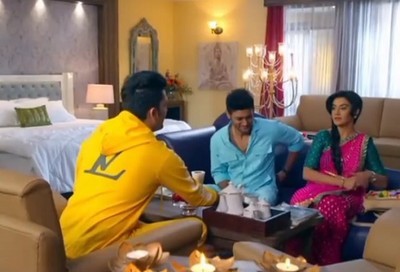 Shaadi Mubarak: Real reason behind KT's wife back in KT's life, Preeti insecure
Star Plus serial Shaadi Mubarak upcoming story will see the return of KT's wife.
KT moved on in his life after his first wife betrayed him.
Now when KT started to bloom feelings for Preeti, who is his Shaadi Mubarak partner, KT's wife came back in KT's life.
KT and Preeti are going to face a lot of new troubles ahead.
Meanwhile, KT's son Arjun approaches KT and Preeti for his mother's marriage.
Arjun and KT's wife to create a mess in Preeti and KT's life
Arjun doesn't reveal his surname and signs KT and Preeti for arranging his mother's remarriage which is going to happen between KT and his wife.
Preeti is already feeling restless with Arjun's name AT and his proposal,
Will KT and Preeti find the woman being KT's wife,
To know more updates, stay tuned with us.
Latest Shaadi Mubarak Updates