Sasural Simar Ka 2: Gitanjali stoops to lowest to humiliate Narayan family (Upcoming Twist)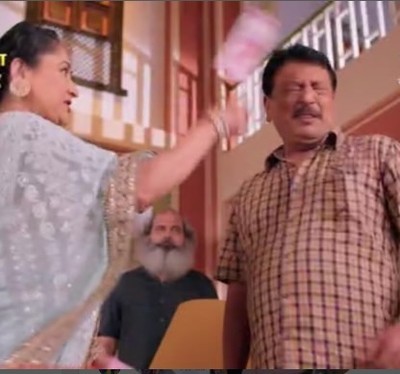 Sasural Simar Ka 2: Gitanjali stoops to lowest to humiliate Narayan family
Sasural Simar Ka 2 is interesting show telecasted on Colors Tv which is up for some interesting twists and turns ahead where Gitanjali is all upto break Simar and Aarav's relation.
It was seen that Gitanjali and Aarav gets into major scuffle where Gitanjali wanted Aarav to give divorce to Simar else this will be havoc in Oswal house.
Owing to all this, Aarav decided to give divorce to Simar and duo takes one month time from each other.
Where they promised that they will do all wifey and hubby duties where Simar gets mesmerized with Aarav's pampering and care.
Gitanjali's cheap act with Narayan family ahead
However where further Gitanjali who is much furious with Aarav and Simar's relation confronts Narayn family over their divorce.
Where Narayan family is not ready for this divorce and sheds tears forth Gitanjali not to leave and ruin their Simar's life.
Here Gitanjali did the wrong where she throws money over Mr.Narayn and wanted him to take money and price of their daughter.
It would be interesting to see what will be next Twist what will Narayn family ahead decision.
To catch stay tuned with us for more updates and exciting twists in other shows too.
Latest Sasural Simar Ka 2 Updates