Udaariyaan: Jasmine intentionally crashes into Fateh-Tejo for misdeeds (Upcoming Twist)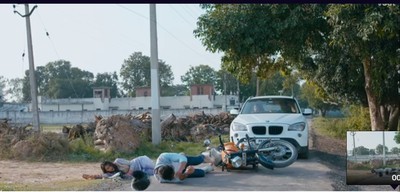 Udaariyaan: Jasmine much irked with Fateh and Tejo's grooving love bond created new hungama
Udaariyaan is interesting show telecasted on Colors Tv which is up for some interesting twists and turns ahead where Fateh and Tejo are together where Jasmine is much irked,
Latest track of showing, Jasmine planned that she will make talk to Fateh so that fateh can realize his mistake and come back.
However where further Tejo confronts Jasmine over same and wanted her to stop all this nuisance where later they decided for date.
Owing to which, Tejo-Fateh and Jasmine-Gippi meets with each other and spends quality time where Jasmine blood boils and wanted to see duo them separated.
Jasmine crashed into Fateh and Tejo's bike with car
However where further major drama is there where Fateh and Tejo are on bike and at same jasmine and Gippi in care.
Later intentionally, Jasmine crashed her car into Fateh and Jasmine's bike where duo fell down from bike and duo turned each other partner in such accident.
It would be interesting to see what will be Jasmine's move to separate Fateh and Tejo?
To catch stay tuned with us for more updates and exciting twists in other shows too.
Latest Udaariyaan Updates