Imlie: Aparna regrets relationship with Imlie comforts Malini (Upcoming Twist)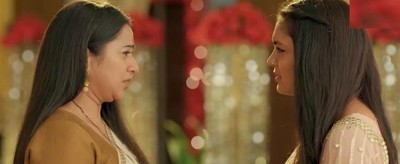 Imlie: Aparna and Imlie confrontation over marriage and regrets alliance
Imlie is popular show telecasted on Star Plus, which is up for some interesting twists and turns ahead in the show where Aditya and Imlie relation truth has been exposed forth family and here is big drama ahead.
Latest track of the show deals that Imlie and Aditya being in wedlock gives more than shock to Tripathi family where Aparna slapped Aditya hardly.
Not only this, Aparna confessed that that she will never accept her as their daughter in law.
Imlie and Aparna's heated argument ahead sides Malini again
However where further, Aparna breaks and bad mouths Imlie that she regrets her alliance with them it was like they were feeding a snake.
Adding more to their pain, Aparna confessed that she is pitting for Malini who lost her everything for sake of Imlie happiness.
It would be interesting to see what will be next Twist in show Imlie.
To catch stay tuned with us for more updates and exciting twists in other shows too.
Latest Imlie Updates