Patiala Babes: Neil Arya's bonding impress Minni (Upcoming Story)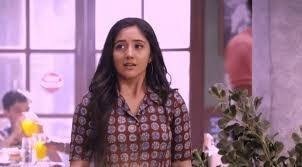 Patiala Babes: Neil (Sourabh Raj Jain) and Arya's (Saisha Bajaj) bonding impress Minni
Sony Entertainment Television popular daily soap is gearing up for new twist and drama.
Neil has special connection with Arya and he leaves no opportunity to pamper her.
Here Neil and Arya will be seen dancing amid new year party and Minni is mesmerized seeing them.
Neil and Arya's cute bonding and chemistry impress Minni, Minni knows that whatever Neil may do but he is good to Arya.
Minni mesmirised seeing Arya, Neil's bonding
Arya will now turn reason of Neil and Minni's cute chemistry, Neil will get closer to Minni unwillingly.
Arya will turn angle of love for Minni and Neil and will make them realise their hidden love.
Is this the beginning of new chemistry of love amid Neil and Minni.
Stay tuned for more exciting updates of the upcoming episodes only on serialgossip.com
Latest Patiala Babes Updates