Yeh Hai Chahatein: Prisha demands wife rights stops Rudraksh's second marriage (Upcoming Twist)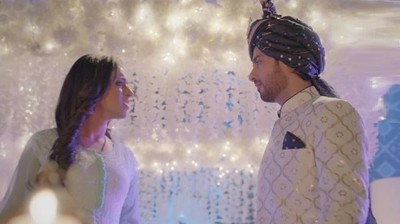 Yeh Hai Chahatein: Prisha's stops Rudraksh's second marriage demands wife right
Popular TV show Yeh Hai Chahatein is seeing of ups and downs in Prisha's life.
Rajeev's death took drastic troll on Prisha's life where Yuvraj got her hanged to death punishment in Rajeev's murder case.
Things take troll and Prisha gives Saransh's legal custody to Rudraksh while Yuvraj gets removed from Judge post.
Prisha will return safe as the punishment will be proved null.
Rudraksh and Prisha's marriage relation hits shocker to Khuranas
At the same time, Prisha will face a huge shocker on learning Rudraksh and Mishika's wedding news.
Prisha will soon be making her stunning entry in Rudraksh and Mishika's wedding ceremony introducing herself being Rudraksh's first and legal wife.
Prisha will turn to stop the wedding demanding her wife right from Rudraksh, but let see if Prisha be able to face the torture of Rudraksh after she returned in his life.
Stay tuned with us for more updates and latest news.
Latest Yeh Hai Chahatein Updates