Shakti Astitva Ke Ehsaas Ki: Heer's elan-e-jang takes Kinnar avatar to revenge Virat (Upcoming Twist)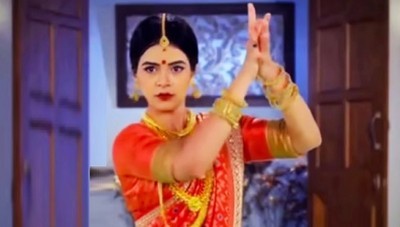 Shakti Astitva Ke Ehsaas Ki: Heer's elan-e-jang takes Kinnar avatar to revenge Virat
A very popular TV show Shakti Astitva Ke Ehsaas Ki is seeing lot of twists and turns in the storyline.
Virat breaks all chords with Heer and refuses to marry her which comes as a huge shocker for Heer.
Heer is unable to bear the betrayal of Virat that she decides to end her life.
Heer before taking her life gets interrupted by Preeto and Harman.
Heer has surely decided to live rather than killing herself but her next step is going to bring the most awaited twist in Shakti Astitva Ke Ehsaas Ki.
Heer and Virat major showdown
Heer and Virat will have their major showdown where Heer will come in her kinnar avatar.
Shocking Virat, Heer is announcing her elan-e-jang against Virat but let's see how this serious fight will bring new twists in Shakti TV serial.
Keep reading serialgossip.com for latest updates and latest news.
Latest Shakti Astitva Ke Ehsaas Ki Updates