Ek Duje Ke Vaaste 2: Shravan Suman's love ride Vijay turns ferocious (Upcoming Episode)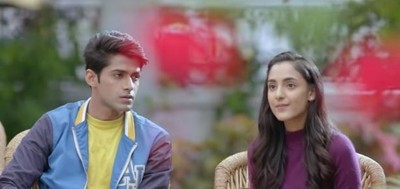 Ek Duje Ke Vaaste 2: Shravan (Mohit Kumar) Suman's (Kanikka Kapur) love ride Vijay turns ferocious
Sony TV popular and well admired serial Ek Duje Ke Vaaste 2 will showcase interesting twist in Shravan and Suman's life.
Shravan and Suman are in love and are enjoying their lovely days.
However Suman starts feelings a bit awkward post realising her love for Shravan.
Shravan and Suman goes for a bike ride where Suman holds the back seat instead Shravan and disturbs the balance.
Suman disturbs Shravan's balance
Shravan stops the bike and asks her to keep her hands on shoulder.
Suman blush and agrees to behave like she was earlier.
Shravan asks her to keep the awkwardness at bay as they will always remain best friends first then lovers.
On the other side Vijay questioned about Suman being absent in class and turns ferocious.
What will Vijay do when he knows about Shravan Suman's love story?
Let's wait and watch for the upcoming twist in storyline.
Latest Ek Duje Ke Vaaste 2 Updates