Shaadi Mubarak: Kusum helps Keertan to win Preeti's partnership (Upcoming Episode)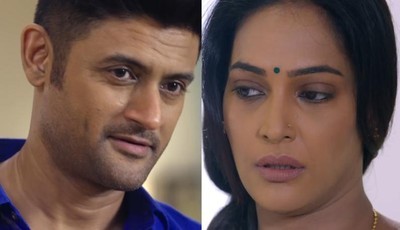 Shaadi Mubarak: Real reason behind Preeti (Rajashree Thakur) rejecting Keertan's (Manav Gohil) partnership
The upcoming story of Star Plus serial Shaadi Mubarak will showcase interesting twist.
As per the on-going storyline it is seen that Keertan comes to meet Preeti in Kusum's house.
Here Keertan offers Preeti to work with him.
While Preeti does not want to work with him and hence rejects his offer.
Kusum gets upset with Preeti's this move as she wants her to work with KT.
Preeti reveals the real reason behind rejecting KT's proposal is that money.
Preeti worried about KT's huge loss over her job opportunity
Preeti notifies that KT will invest huge amount and she does not want to make his face loses due to her mistakes.
Preeti thinks about KT over her job opportunity.
Will Kusum understand the problem and solve Preeti's troubles?
Let's wait and watch for the new twist in upcoming track of Shaadi Mubarak.
Latest Shaadi Mubarak Updates