Shaadi Mubarak: Kusum helps Keertan to win Preeti's partnership (Future Story)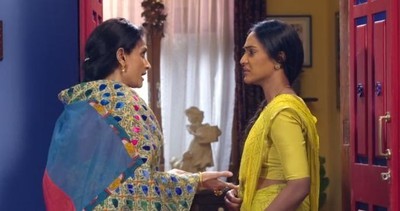 Shaadi Mubarak: Kusum (Rajeshwari Sachdev) helps Keertan (Manav Gohil) to win Preeti's (Rajashree Thakur) partnership
Star Plus serial Shaadi Mubarak will showcase interesting twist and turn.
It was earlier seen that Preeti rejects Keertan's partnership offer.
Kusum is very upset with the same.
But she learns about the real reason behind Preeti rejecting Keertan's offer is money, she decides to help Keertan in win Preeti's partnership.
Kusum calls up Keertan and informs everything about Preeti.
Kusum also gives Keertan an idea to win Preeti's partnership.
Keertan in Preeti's first project
Keertan hence reaches at Preeti's first project and tries to convince her till she says yes.
It would be really interesting to see what happens next in the show.
Will KT be able to successfully convince Preeti?
Let's wait and watch for the upcoming twist in Shaadi Mubarak.
Latest Shaadi Mubarak Updates