Yeh Rishta Kya Kehlata Hai: Aditya Keerthi's intimate night photograph leaked Goenka's feel ashamed (Upcoming Twist)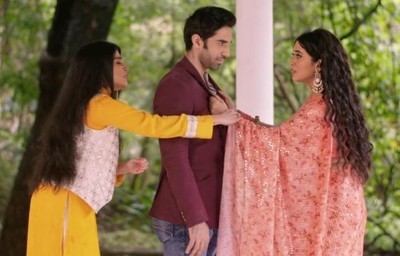 Yeh Rishta Kya Kehlata Hai: Aditya (Romit Sharma) Keerthi's (Harsha Khandeparkar) intimate night photograph leaked Goenka's feel ashamed
The upcoming episode of Star Plus serial Yeh Rishta Kya Kehlata Hai will showcase interesting twist and turn.
Keerthi returns back to Goenka Mansion where she is completely shattered as Naksh broke ties with her.
Aditya makes his entry to add fuel to Keerthi's sad story.
Aditya only wants Krish back with him as Keerthi can plan new baby with Naksh.
Naira and Kartik asks Aditya to get lost while Aditya plays his drama.
Aditya leaks his and Keerthi's intimate photos during the birthday party night.
Aditya unfolds his consummation story with Keerthi
Shockingly Aditya reveals that they consummated that night and Krish is his son.
Naksh too makes timely entry and gets shocked to witness the evidence.
Goenka's feels ashamed seeing Keerthi's intimate picture and turn their face.
To know what happens next on the show keep reading serialgossip.com for latest development on YRKKH.
Latest Yeh Rishta Kya Kehlata Hai Updates