Shaadi Mubarak: Real mastermind behind KT to break his partnership with Preeti (Upcoming Twist)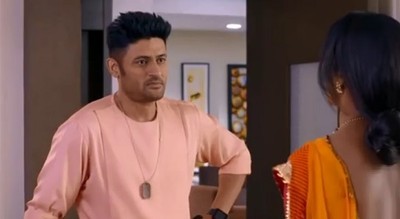 Shaadi Mubarak: The real mastermind behind KT (Manav Gohil) to break the partnership with Preeti (Rati Pandey)
Star Plus serial 'Shaadi Mubarak' is up for a big u-turn in the storyline with KT learning Preeti's truth.
Neelima takes chance to fuel misunderstanding amid KT and Preeti when she gets Preeti and Chanda's picture.
Now when KT sees them together, KT misunderstands their meeting by assuming Preeti wrong.
The misunderstandings amid KT and Preeti will now take an ugly u-turn when KT decides to end his partnership with Preeti.
KT and Preeti's relationship at stake
KT and Preeti's relation is going to have a traumatic time as KT's such decision over a mere misunderstanding will hurt Preeti badly.
Let's see if Preeti finds the reason behind KT ending the partnership and KT finds the truth before taking the step.
Stay tuned to entertainment news website Serialgossip.com for more updates and latest news of top TV shows.
Latest Shaadi Mubarak Updates