Gum Hai Kisi Ke Pyaar Mein: Virat Pakhi's serious fight puts Virat in do or dies situation (Upcoming Episode)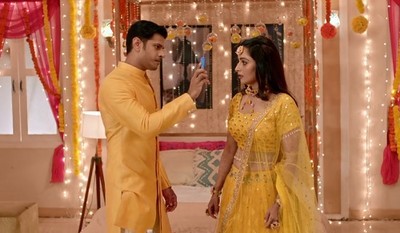 Gum Hai Kisi Ke Pyaar Mein: Virat Pakhi's serious fight puts Virat in do or dies situation
The upcoming episode of 'Gum Hai Kisi Ke Pyaar Mein' is going to see tough phase in Virat and Pakhi's life.
Virat and Pakhi finally come face-off when the truth gets revealed.
Virat is shocked knowing Pakhi agreed to marry Samrat and didn't even wait for his return.
Pakhi also questions Virat for not contacting her and playing a game with her.
Pakhi badly blames Virat for playing with her feelings while it is only her misunderstanding.
Virat and Pakhi's argument gets heated but what will happen next in GHKKPM is quite worse than this.
Virat to betray Pakhi
Pakhi's father asks Virat to take his final decision while Pakhi wants Virat to choose her and accept their love breaking this marriage alliance.
Virat is now stuck in a do or dies situation as he has to either choose his true love Pakhi or his brother Samrat's happiness.
Let's see what big twist will come in the story of Gum Hai Kisi Ke Pyaar Mein.
Stay up to date with Serialgossip.com for more entertainment news and TV serial twists.
Latest Gum Hai Kisi Ke Pyaar Mein Updates