Shaadi Mubarak: Little misunderstanding separates KT & Preeti on distressing note (Upcoming Story)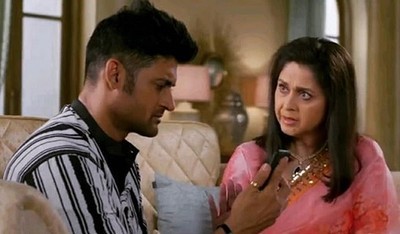 Shaadi Mubarak: Little misunderstanding separates KT & Preeti on a distressing note
KT and Preeti's partnership in the top TV serial 'Shaadi Mubarak' is going to face a difficult phase.
KT and Preeti are already going through the challenging project of Mrs Goplani.
Here Rati plays her dirty game and manipulates Preeti and Chanda's meeting to fuel Neelima's ears against Preeti.
Neelima assumes Preeti really gave their Nathmal project to Chanda and this infuriates KT to the core.
KT gets disappointed as he can't bear betrayal and now he decides to end his partnership with Preeti.
Preeti to win back KT's trust
Preeti on the other hand is completely clueless of what is going on in KT's mind and thus gets shocked when KT announces to end his partnership with her.
How Preeti will win back KT's trust and what new twists will come in Shaadi Mubarak are worth watching.
Till then stay tuned to entertainment news website Serialgossip.com for more updates and the latest news of top TV shows.
Latest Shaadi Mubarak Updates