Choti Sardarni: Psycho Manav to kill Sarabjit to get Meher back from Sarabjit (Upcoming Twist)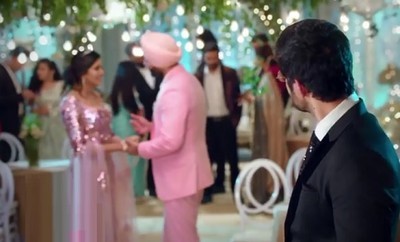 Choti Sardarni: Psycho Manav to kill Sarabjit to get Meher back from Sarabjit
Popular Colors tv serial 'Choti Sardarni' is going to witness ahead big twists and turns in Sarabjit and Meher's life.
Manav is back in Meher's life and wants to rekindle his long lost love with Meher.
Meher who now loves Sarabjit and wants to stay loyal with him denies to Manav's love proposal.
However, Manav is now obsessed with Meher and here he can't think of anything good for Meher and Sarabjit.
Further, Manav again proposes Meher but hearing Meher's no, Manav swears to kill Sarabjit.
Meher's Sarabjit in danger
Meher calls Sarabjit her Jaan (life) when furious Manav swears to take Sarabjit's life.
Now when Meher's Sarabjit is in extreme danger and Manav has determined to kill Sarabjit,
How Meher will protect Sarabjit is worth watching next in Choti Sardarni.
Stay tuned to entertainment news website Serialgossip.com for more updates and latest news of top TV shows.
Latest Choti Sardarni Updates