Kumkum Bhagya: Ranbir Rhea's wedding bells ring at cost Prachi's huge sacrifice (Upcoming Story)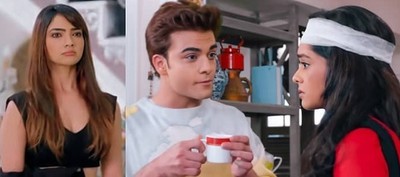 Kumkum Bhagya: Ranbir Rhea's wedding bells ring to knock in trouble for Prachi
The upcoming story of Kumkum Bhagya is going to see difficult times in Ranbir and Prachi's love life.
Abhi is upset seeing Rhea's hate for her mother Pragya and her hate towards her sister.
Abhi thus fixes Ranbir and Rhea's wedding when Aaliya manipulates Abhi saying Rhea is upset because he didn't accept her and Ranbir's marriage.
Ranbir misunderstands Vikram believing Vikram has fixed his wedding Prachi while in reality, Vikram fixed Ranbir's alliance with Rhea.
What will happen next in Kumkum Bhagya is hard enough for Prachi as Prachi will sacrifice her love for Rhea's happiness.
Ranbir and Prachi to get separated
It looks like Ranbir and Prachi are destined to be separated.
Now when Ranbir and Rhea's wedding bells are going to ring at cost of Prachi's sacrifice of love,
Let's see what new u-turn this story will take ahead.
Stay updated with entertainment news website serialgossip.com for top TV serials latest news and buzz.
Latest Kumkum Bhagya Updates