Shaadi Mubarak: KT and Preeti's romantic dance to twist up Goplani's wedding function (Upcoming Twist)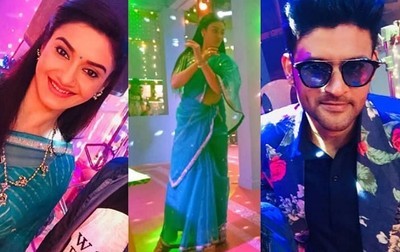 Shaadi Mubarak: KT and Preeti's romantic dance to twist up Goplani's wedding function
The upcoming twist in 'Shaadi Mubarak' is going to see amazing twists and turns in the storyline.
KT and Preeti are working hard on their new project of Mrs Goplani's daughter wedding function.
Preeti faces a hard time when Goplani insults her dark complexion and humiliates her.
KT also misunderstands Preeti when Preeti starts to lie to avoid attending the wedding functions.
However, this bitterness will not go for long as Preeti and KT will happily sort out their misunderstandings.
KT and Preeti's new venture
Moving ahead, KT and Preeti will have their new venture when they will give a romantic dance performance in the sangeet function.
This is getting seriously complicated and romantic at the same time.
Let's see how soon their destiny will hint them about their budding love.
Stay tuned with Serialgossip.com for more updates and latest news.
Latest Shaadi Mubarak Updates