Saath Nibhana Saathiya 2: Cheers to Anant and Gehna first love realization (Upcoming Twist)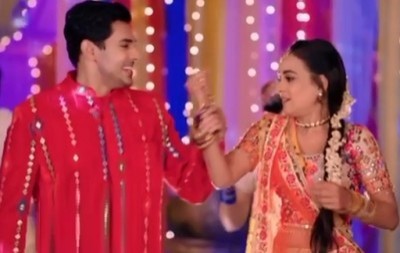 Saath Nibhana Saathiya 2 (SNS 2): Anant (Harsh Nagar) and Gehna (Sneha Jain) successfully unite Ahem and Gopi's, broken love
The upcoming twist of Saath Nibhana Saathiya 2 will see Anant and Gehna's love realization soon.
Anant and Gehna both plan Ahem and Gopi's reunion when Ahem finally recalls his lost memory.
Anant and Gehna jump in happiness when Ahem during the dandiya recalls his memory and recognizes Gehna.
Gehna runs and hugs Ahem while here Anant holds Gehna's hand and cheers with her in joy.
Ahem and Gopi's love brings Anant and Gehna closer
Anant and Gehna's plans to bring Ahem's lost memory back is finally succeeded.
Anant and Gehna also feel for each other the moment Anant holds Gehna's hand.
Let's see how this moment will become their first realization of love.
Stay tuned with us for more updates and latest news.
Latest Saath Nibhana Saathiya 2 Updates