Mehndi Hai Rachne Wali: New Storm hits Pallavi Raghav comes to rescue (Latest News)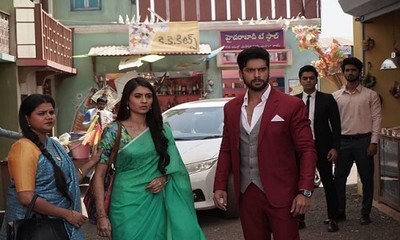 Mehndi Hai Rachne Wali: New Storm hits Pallavi Raghav comes to the rescue
The latest track in Star Plus TV series Mehndi Hai Rachne Wali will see Raghav and Pallavi coming across new double trouble.
Raghav and Pallavi's hatred is already at the peak when a new troublesome situation comes forth Pallavi as she visits her shop.
The people there taunt Pallavi and make some filthy comments on her character.
Thanks to Raghav Rao who arrives there in a minute and takes a strong stand for Pallavi.
Raghav and Pallavi's future at stake
Raghav protects Pallavi when the people mess up the shop with mud and Pallavi tries to stop them.
Raghav and Pallavi will surely get out of this trouble but what will happen next when the pregnancy drama will unfold,
Stay tuned to entertainment news website Serialgossip.com for more updates and the latest news of top TV shows.
Latest Mehndi Hai Rachne Wali Updates