Mehndi Hai Rachne Wali: Drastic Storm hits Raghav Pallavi's life (Upcoming Episode)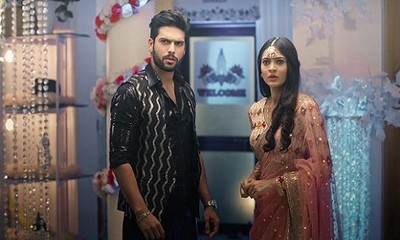 Mehndi Hai Rachne Wali (MHRW): Big Storm knocks in Raghav and Pallavi's life
In the upcoming episode story of Mehendi Hai Rachne Wali, Raghav and Pallavi are going to face new troubles.
On one side, Mansi's Sangeet function is going on that here Pallavi meets Raghav.
Pallavi's arrival at Raghav's house creates a huge troublesome situation when Sulochna puts Pallavi in the wrong light.
This much isn't enough that a new drastic storm hits Raghav and Pallavi's life when Pallavi is proved pregnant with Raghav's child.
Raghav and Pallavi's dignity at risk
Unfortunately, the pregnancy test receipt which Sulochna gets in the house leads to a major misunderstanding.
Sulochna confesses that Pallavi is pregnant with Raghav's child wherein they can get the proof from the hospital.
Poor Raghav and Pallavi both fall in this pregnancy blame game when in actuality Raghav and Pallavi have no such relation.
So, how Raghav and Pallavi will come out of this deteriorating situation?
Stay tuned with us for more updates and the latest news.
Latest Mehndi Hai Rachne Wali Updates