Pandya Store: Dhara demand Raavi to write eternal love story with Shiva (Upcoming Story)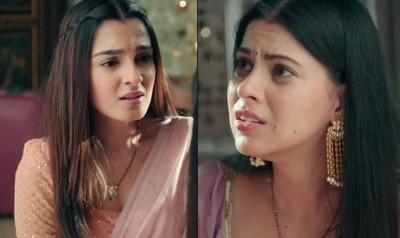 Pandya Store: Dhara demand Raavi to write eternal love story with Shiva
The upcoming episode of Star Plus popular serial Panday Store will showcase interesting twist and turn.
Major twist took place when Raavi had to marry Shiva the person whom she used to hate to the core.
Raavi only loves Dev and wanted to marry him but unfortunately he loves Rishita.
Poor Raavi have to live life full of hatred with Shiva.
Dhara thus demands Raavi to live her life with Shiva and she is much sure that Raavi and Shiva will write eternal love story soon.
Raavi disappointed with Dhara for ruining her life
Raavi is much disappointed with Dhara who ruined her life completely by getting her married to Shiva.
It would be interesting to see how Raavi and Shiva's love story post marriage shapes up.
Keep reading serialgossip.com for more updates.
Latest Pandya Store Updates