GHKKPM: Virat says no to Pakhi choosing Sayi (Upcoming Twist)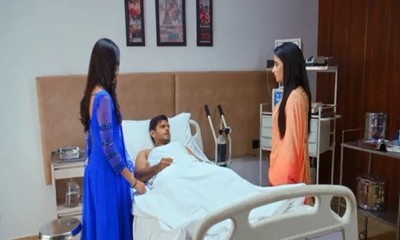 Ghum Hai Kisi Ke Pyaar Mein (GHKKPM): Virat says no to Pakhi choosing Sayi
Star Plus prime-time TV serial Ghum Hai Kisi Ke Pyaar Mein is looking forward to some high-time drama in the hospital.
Virat gains his consciousness when finally he chooses to stay with Sayi, not Pakhi.
However, Pakhi still desires to stay with Virat and there she commands Virat to oust Sayi.
Interestingly, Virat doesn't oust Sayi but he asks Pakhi to leaves the hospital
Virat's no to Pakhi breaks down Pakhi to the core when Sayi holds Virat's hand.
Virat and Sayi's reunion hurts Pakhi
Sayi and Virat's reunion shatters Pakhi to such core that she curses Sayi.
However, will Virat and Sayi be able to kindle their love when Pakhi is keeping her evil eye on them.
Stay up to date with Serialgossip.com for more entertainment news and TV serial twists.
Latest Ghum Hai Kisi Ke Pyaar Mein Updates