YRKKH: Kartik steps back from Sirat's life on high note (Upcoming Episode)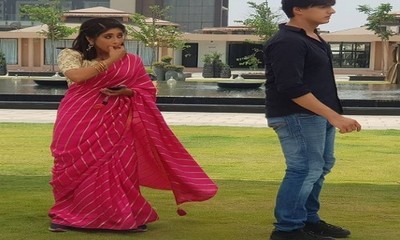 Yeh Rishta Kya Kehlata Hai (YRKKH): Kartik steps back from Sirat's life on a high note
The upcoming episode story of Yeh Rishta Kya Kehlata Hai is going to see some major twists and turns in the storyline.
Kartik and Sirat make up their mind to get engaged but everything falls shattered when Ranveer marks entry.
Sirat faces a traumatic time as she doesn't want her past to haunt her.
However, Kartik knows Ranveer's innocence and thus he decides to unite Kartik and Sirat.
Kartik tricks Sirat and takes her to SSC where Ranveer and Sirat both get surprised to see each other.
Ranveer and Sirat reconcile
So, finally, when the misunderstandings get cleared off, Ranveer and Sirat share a tight hug.
Ranveer and Sirat reconcile their relationship when Kartik steps back from Sirat's life.
This would be interesting to watch what will happen next in the show.
Stay updated with entertainment news website serialgossip.com for top TV serials latest news and buzz.
Latest Mehndi Hai Rachne Wali Updates